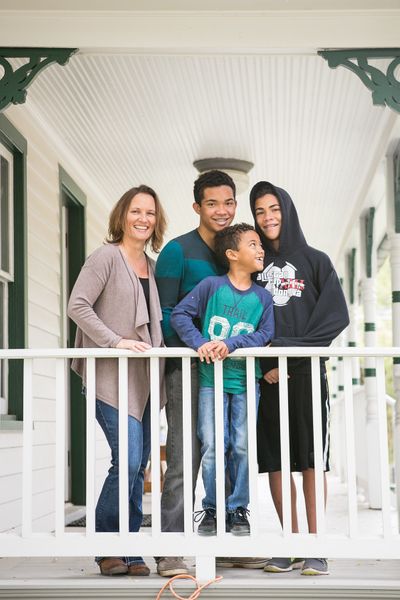 Why WorkAway?
These kiddos are the history of WorkAway. From the time they were itty bitty, I juggled motherhood and working from home for most of their childhood. Childcare for when they were small, sitters for when I needed to travel, camps for those long hot summers, and wonderful neighbors to lean on were all part of the ecosystem. The boys grew up peeking into my office when they got home from school to say "hello" but knew that mom was working; available if needed but also learning to be self sufficient. I worked in the franchise industry for a company who supported motherhood and later as a consultant. They grew up overhearing calls coaching business owners, conducting training, and talking with others about starting businesses.
When my middle guy, got his first job at a franchised restaurant, he was able to "talk franchise" with the owner like the true #franchisekids that they are. As they grew older and I was no longer accompanying them to the bus stop (for my only adult connection), I was eager to find a coworking space to go to a few times a month to be around other adults but there wasn't one nearby.
They have been a part of every step of building this amazing coworking space and community. They've worked on business plans and budgets, looked at property with me, built furniture, and so much more. They've grown up steeped in entrepreneurship and learning about real life, just as I did.
Come see what we have created, our community would love to meet you.
Our History
WorkAway Solutions LLC was founded in 2017 by Susan King Glosby, an entrepreneur with more than twenty years of business experience and Nora FitzGerald, a journalist, editor and dear friend. We founded WorkAway as our kids got older and we started to outgrow the isolation of our home offices. From the beginning it was a labor of love to create a space that was comfortable yet professional, bright, friendly and inviting. Though Nora has moved on from ownership, she is now part of our coworking family full time and brings the glue to our community.
As a coworking and flex office space, we provide options to small business owners, remote workers and students who need a work home away from home. We believe in the power of community and connection as a place to build businesses, foster productivity and provide a semblance of work life balance.
We are proud members of the Global Workspace Association and the Greater Springfield Chamber of Commerce, both well suited to support and guide us and expand our reach to people who may need us. You can also find WorkAway featured in an article about Virginia's best coworking spaces. Additionally, our determination to innovate and grow has made us a powerful ally as COVID-19 has shifted the way businesses function. We're privileged to provide spaces where entrepreneurs can continue to thrive on their terms and with the precautions to help keep people safe.
We were founded to be a resource for entrepreneurs and others to have a professional space without the overhead of long term leases and contracts, but we're more than that. We believe that coworking solutions can provide the platform to knit communities together without compromising social distancing and health safety. Join us, and make our supportive, modern workspace your home away from home. We look forward to welcoming you!